The Amazing Gripper Playing Card Holders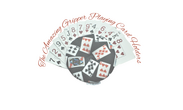 Hello, and thank you for stopping by! My name is Rob (posing with my beautiful wife Jeanne) and I'm excited that you've decided to drop by to learn a bit about me and why I make playing card holders!
Prior to becoming a crafter, I was a self-taught artist, dabbling in watercolors, oils, acrylics and pencil. When I retired the first of 2007, I tried my hand at producing paintings of landscapes, birds, flowers, and even portraits. However, it didn't take me long to find out that unless one is extremely talented the artwork pretty much goes unnoticed.
I'm having a good time in my retirement and this new chapter of my life, but I'm the type of person who needs to be busy.
So when my wife retired a couple of years later, we decided to try the "Snow Bird" scene for a while. (It was fun, but all the driving to and fro plus the packing, etc. got way too tiring so that was the end of that.)
But while we were there I discovered that many retirees loved to play card games. However, I also learned that there were many who had problems holding the cards due to hand issues, way too many cards, etc. So I decided to set out to find a solution. After many trials and errors, I came up with a prototype which, after consulting with my wife (who has done quite a bit of sewing and quilting) I improved upon and set out to test my "invention" at craft fairs. To my surprise, they went over so well that I actually sold out at my first one! I quickly made more that evening and participated in another craft fair where I just about sold out again.
After arriving back home, I improved upon my design yet again and started making more for our next trip to the south. The next craft fair was a testament to word of mouth advertising, as many of my customers were referrals from the customers who bought from me the previous year. Thus, the Amazing Gripper Playing Card Holders were born! My unique card holders have continued to evolve to what you see here in my shop. Over the years, I've added many styles to the delight of many of my loyal customers.
So there you are - my story in a nutshell. I hope you enjoyed reading it; please continue to browse my shop and contact me if you've got any ideas or comments. Enjoy, and have fun at the card table!