About this Product
The Amazing Gripper Deluxe Hand & Foot!
Experience this new playing card holder especially made just for the Hand & Foot player!
Here's how this unique card holder works:
Just like my original H&F cardholder, your card Hand is held between the two halves, and your "Foot" is held in the convenient pocket on the back of the holder.
But here is where it differs:
On the front of the Deluxe H&F Gripper is another pocket! Here you can hold your discards, wild cards, or whatever. (Please look at the photos.) As it turns out, this feature is quite handy, allowing the player to keep track of his/her important cards. (Even the not-so-important ones!)
The Gripper Deluxe Hand & Foot card holder is the only H&F card holder of its type. As with all my Gripper cardholders, this is my own design with a patent pending. User instructions are included with all my Gripper styles.
With The Gripper, you'll notice it has a nice padded feel to it. You will also notice that once the "Hand" is inserted into the holder, the cards will not fall out! Thus the name "The Gripper"! (You will still be able to add, remove, or rearrange your cards.)
Made with only quality materials, your Gripper Deluxe Hand & Foot card holder should last you for years to come.
PLEASE NOTE: the ribbon on the front pocket shown may differ from the photos.
>>Photos are for illustration only. Your Deluxe H&F card holder will be made from the same fabric, however, please keep in mind that the design changes throughout the fabric causing no two card holders to be the same. Playing cards not included.
All my Gripper playing card holders are made in a pet-free, smoke-free, and most importantly, a VIRUS-FREE environment.
Thanks for visiting my shop.
If you've got any questions, don't hesitate to message me
Bremerton, WA
Your home for the one and only Gripper Playing Card holders! Offering unique styles and always FREE SHIPPING!!
Contact Maker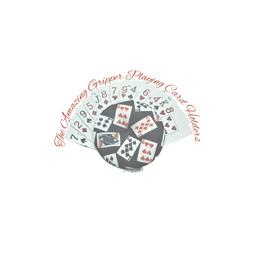 Meet the Maker
Hello, and thank you for stopping by! My name is Rob (posing with my beautiful wife Jeanne) and I'm excited that you've decided to drop by to learn a bit about me and why I make playing card holders!
Prior to becoming a crafter, I was a self-taught artist, dabbling in watercolors, oils, acrylics and pencil. When I retired the first of 2007, I tried my hand at producing paintings of landscapes, birds, flowers, and even portraits. However, it didn't take me long to find out that unless one is extremely talented the artwork pretty much goes unnoticed.
I'm having a good time in my retirement and this new chapter of my life, but I'm the type of person who needs to be busy.
So when my wife retired a couple of years later, we decided to try the "Snow Bird" scene for a while. (It was fun, but all the driving to and fro plus the packing, etc. got way too tiring so that was the end of that.)
But while we were there I discovered that many retirees loved to play card games. However, I also learned that there were many who had problems holding the cards due to hand issues, way too many cards, etc. So I decided to set out to find a solution. After many trials and errors, I came up with a prototype which, after consulting with my wife (who has done quite a bit of sewing and quilting) I improved upon and set out to test my "invention" at craft fairs. To my surprise, they went over so well that I actually sold out at my first one! I quickly made more that evening and participated in another craft fair where I just about sold out again.
After arriving back home, I improved upon my design yet again and started making more for our next trip to the south. The next craft fair was a testament to word of mouth advertising, as many of my customers were referrals from the customers who bought from me the previous year. Thus, the Amazing Gripper Playing Card Holders were born! My unique card holders have continued to evolve to what you see here in my shop. Over the years, I've added many styles to the delight of many of my loyal customers.
So there you are - my story in a nutshell. I hope you enjoyed reading it; please continue to browse my shop and contact me if you've got any ideas or comments. Enjoy, and have fun at the card table!
How it's Made
Made with quality materials, I create my Grippers in a little shop located in my backyard. I do it all: buy all the materials needed, prepare everything to be made into one of my unique playing card holders, package and ship them, and do all the advertising needed. Unlike all the imitators out there, all my Grippers are meticulously made with great attention to detail. Because of that, each one actually takes anywhere from 1 to 2 days to complete.
Shop Policies
SHIPPING U.S. Shipping: Most orders are shipped within 1-2 business days. On orders that may take longer, I will keep you, the customer, informed. I always offer free shipping on all orders; to keep my shipping costs low, I use USPS First Class Mail as much as possible. However, I do search other shipping methods and make my decision upon that. Whichever shipping method I use, I make sure to have a tracking number so both my customer and I can check the order's progress. Orders ship out from WA zip code 98311.
RETURNS and REFUNDS, Problems with an Order. If you have received a damaged item, your package is missing an item, or you've received an incorrect item, please contact me within 14 days of receipt of your order. You may expect to receive either a replacement or a refund for the incorrect/damaged item.
PRODUCT RETURNS I accept returns provided the items are returned to me in the same condition that you received it. To begin your return, please contact me within 14 days of receipt of your order. You will be responsible for the return shipping. Shipping costs are non-refundable. Your product refund will be processed for the product price only, since I provide free shipping to customers in the U.S.A. Customers outside of the Continental U.S. : you will be refunded the price of the product purchased only as shipping costs are non-refundable.

All returns must be completed within 30 days of your purchase. If more than 30 days has passed, unfortunately I cannot offer you an exchange or refund.
Non-returnable items are as follows: Sale items, custom orders, including playing card holders made with fabric sent to me from the customer.
Once your return is received and inspected, I will send you an email notification along with the status of your refund. Once approved, your refund will be processed, and a credit will be automatically applied to your credit card or original method of payment.
Please sign in so that we can notify you about a reply